Are you thinking that your doctor is prescribing you high cost medicine to get commission from pharmaceutical companies ?
or you could not find the brand name prescribed by your doctor from your local chemist ?
or you are a medical student or other person with medical knowledge and you know generic name but want to know brand name?
or you want to know action of drug prescribed to you by your doctor?
If you have any of above question then we have answer to your question/s and we can save your thousands rupees per year.
Study Temple bring unique search engine  GenericPedia – Encyclopedia of Generic Drugs Drugs search engine  via you can search any Brand name, Generic Name or pharmaceutical company.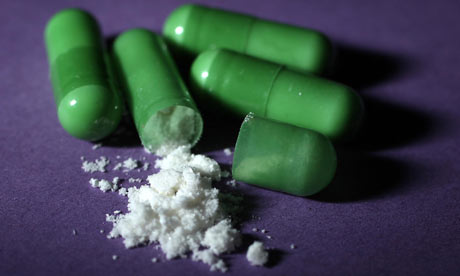 This website is available for PC , mobile phone – all mobile phone supported
It support following search
Drug Brand Name
Generic Name
Pharmaceutical company Name
Generic dose
Combination of generic name
Search all brand which are 100% similar to other brand
Word Auto completion when you type
It support following sorting method 
Sort by Price ( Ascending or Descending ) – default method to display results
Sort by brand name
Sort by Manufacturer name
Sort by Product type
last three method will be launched for public use later on
How to use this search engine
Go to this link  Drugs search engine
You will see following page

Enter any Brand Name or Generic Name or Manufacturer Name or Combination of any of four
you will see suggestion list as soon as you start typing like this ( JavaScript Should be enabled )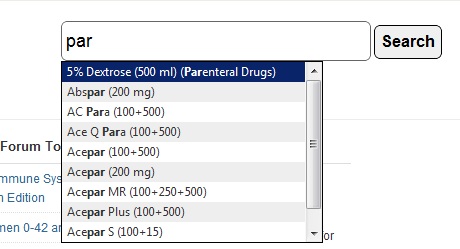 You can either select from the suggestion list or you can type if you know exact name.
Following type of Input is supported
Full brand or generic name or pharmaceutical company like Dolo Relieve or Dolo , paracetamol, Medico Health Care etc
combination of  any of above like paracetamol Medico Health Care , Dolo paracetamol  etc.
Partial Name if you know only part of name of drug or generic name ( minimum of 3 character you should know e.g. para, ceta, medi, dolo ) . Your search query will be like this para* , *ceta* , *mol, i.e. you have to replace the missing characters with * ( without any space )
After entering the search query you have to click search button or press enter button.
You will see following process depending upon whether you have enabled JavaScript or not .
If you have enabled JavaScript of your browser then you will see processing image like this
You will have to wait for 1-2 second to receive the result ( there will not be any new page loading, only you current page will get new data )
If you have disabled JavaScript of your browser then new page will loaded with results like this

this list is sorted by increasing price by default i.e. lowest price brand will be shown on top, in the list if you see any brand name which have desired constituent then you can click on that brand name to see all other brand names which have 100% similar constituents.
while searching if you have entered exactly correct brand name with dose then our system will automatically search all brands with similar constituents.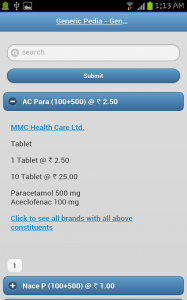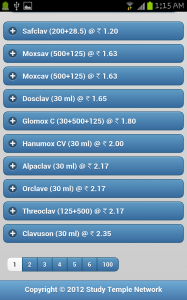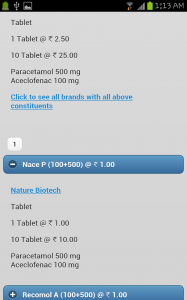 Following features coming soon
Brand name of other countries
Indications , contraindications, side effects of all generics
Use this search engine and save your medical expenses.
Please do not forget to add your feedback in comments below.