For latest update of AIPGMEE 2012 online counselling visit here
Result of Third round  on 12th June, 2012
Complete Medical Seats Allotment Result
Complete Dental Seats Allotment Result
FRESH CHOICE SUBMISSION BY ELIGIBLE CANDIDATES FOR 3rd ROUND 
In case any seat out of your choices, submitted for third round, is allotted to you, the earlier allotted seat will automatically be cancelled and allotted to another candidate.
In case you are not allotted any seat in the third round you will retain earlier allotted seat.
In case candidate does not fill up any fresh choices for the third round, he/she will not be allotted any seat and will retain his/her earlier allotted seat.
Candidates are advised to fill in only higher choices or any other choice, better than the earlier allotted seat for third round from the vacancies shown. Please do not submit choice for the seat which is already allotted to you.
The seats available are of the following types:
1.  Actual vacancies, i.e. the seats which are vacant due to: 
a.  Non-reporting (non-admission) by the allotted candidates b.  Due to resignation / cancellation
c.  The seats added during third round (these seats were not included in first round, as they were created/ conveyed after start of first round)
2.  Virtual vacancies: (Subject to availability) 
a. Those seats which are held by the candidates who have submitted willingness for participation in third round. In case these candidates submit fresh choices and are allotted any seat, then the seat vacated by them will be available for allotment to other candidates.
b.  Those  seats  which  are  vacant  due  non-availability  of  candidates  of respective categories, will be converted for other categories as per policy already declared earlier, during third round.
Candidates are advised to submit their fresh choices after going through the vacancy list as mentioned above.
The  fresh  choice  filling  (and  modification)  facility  will  be  available  to  all  eligible candidates from 9.00 AM of 07.06.2012 to 11.59.59 PM of 09.06.2012. Facility for locking  choice  will  be  available  from  9.00  AM  of  09.06.2012  to  11.59.59  PM  of
09.06.2012. If candidate fail to lock choices at closing time on 09.06.2012, the choices saved last by the candidate will be locked automatically. The candidates are advised to keep clicking 'save and continue' option while filling up choices. Please remember that once choices are locked, they cannot be changed. Candidates are also advised to take a printout  of their locked choices, which is possible  only before closing of locking period.
Medical Counseling Committee appeals to all candidates to exercise choice carefully and fill up choice(s) which they genuinely want to join and complete PG course. They should not fill up choices, which they do not wish to join and 'waste/block' the seat, which otherwise would have been allotted to other All India Quota candidate who wish to join the course and complete the PG course.
UPADTE 5th june 2012
Vacancies for III Round
UPADTE 25th may 2012
 Provisional Allotement Letter/Result of 2nd ( second ) Round
Complete Medical Seats Allotment Result
Complete Dental Seats Allotment Result
UPADTE 13th may 2012
Complete Medical Seats Allotment Result
Complete Dental Seats Allotment Result
Registration and Choice Filling
For Candidates – For Registration and Choice Filling please visit website www.mcc.nic.in (will be available from 01.05.2012)
you will see following page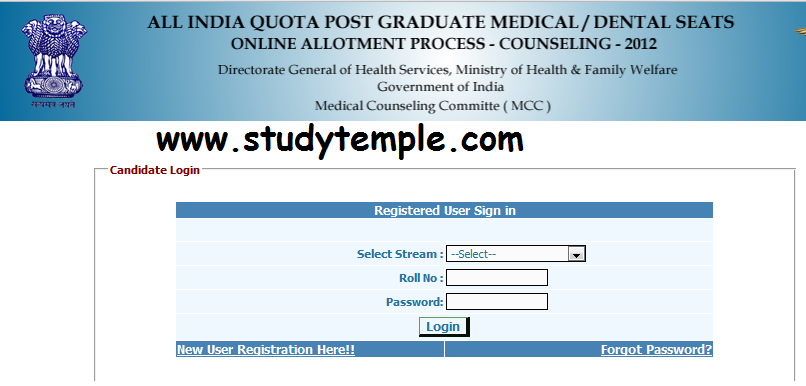 Click on "New User Registration Here!!"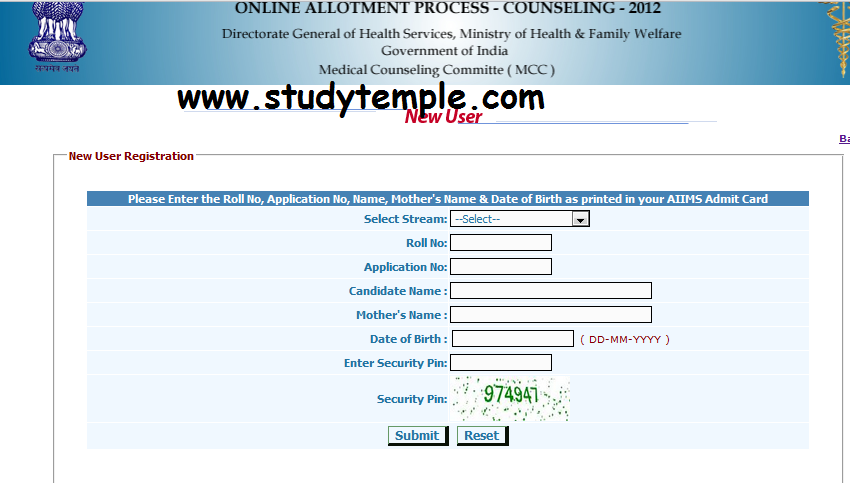 You will see above page
Application no. is mentioned on Admit card as well as registration slip of AIPGMEE 2012
Application No. can be downloaded from here also visit this link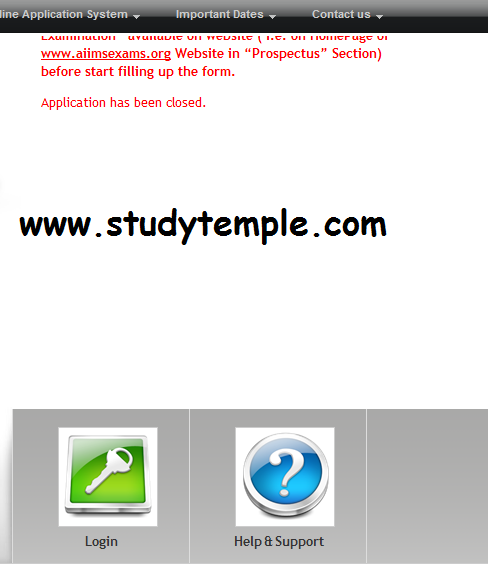 Click on Log in Button and fill your email id and password which you have used to register during submitting AIPGMEE 2012 registration

or you can search inbox of you email id for email which AIIMS send after completing registration
Fill your details and click on Submit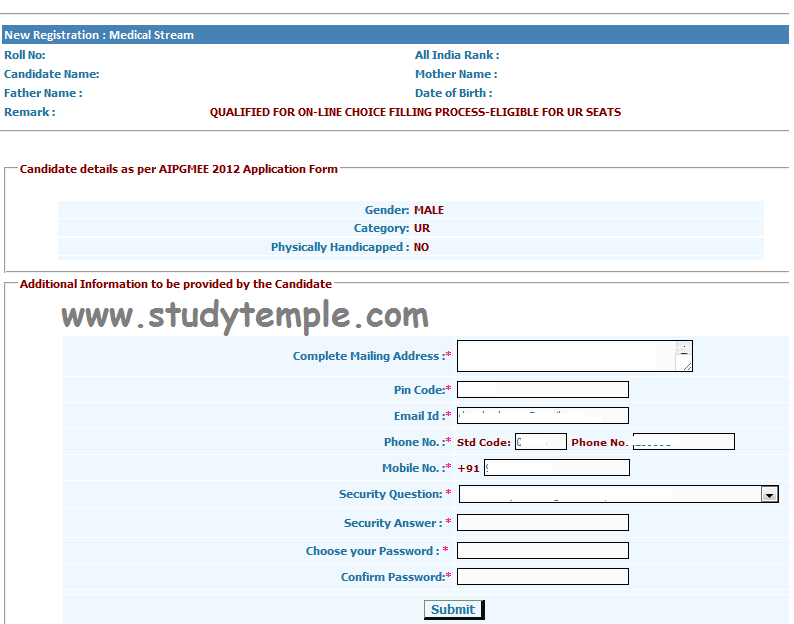 You will reach above page
Fill your mailing address and other columns. Do Not forget password & security question and answer you selected as these are needed to reset password in case you forget the same.
Click Submit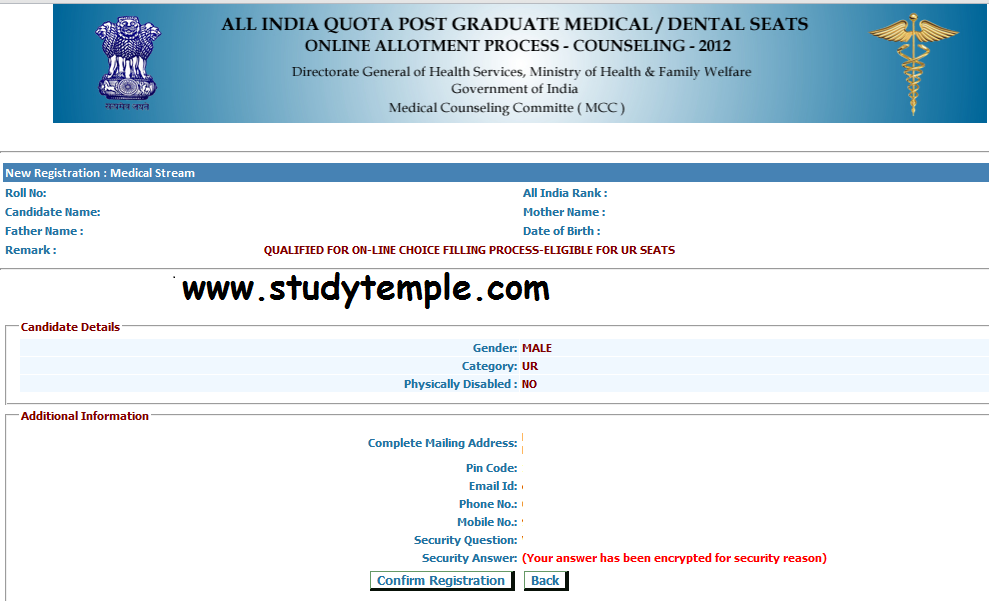 Click on Confirm Registration
You have done registration process !!!!! 
Log in here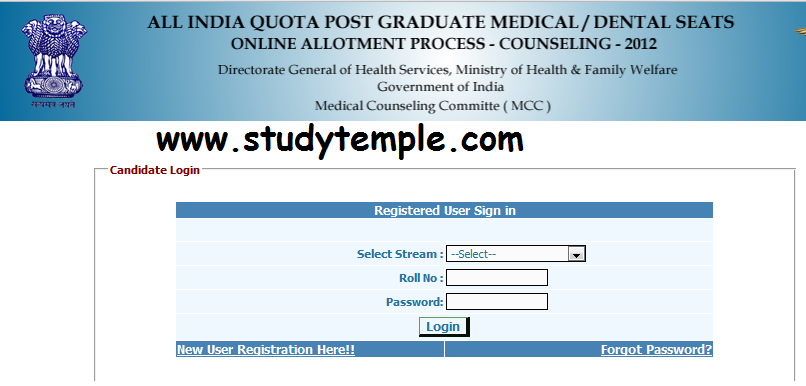 Select your stream, Roll no., password and click Log in
We will update this page with seat selection process within 24 hours
Reply here if you are facing any problem. we will try to help you