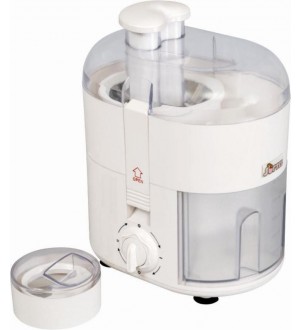 Packaged : 25 x 18 x 30 cms
A compact designed centrifugal juicer, Softel Centrifugal Juicer Sr. is a perfect way to replenish with energy and power. Incorporated with imported critical parts and two speed control knob, it helps you extract maximum juice out of the fruits and maintains the nutritional content. Put in soft or hard fruits and watch its powerful processor make healthy juice instantly. In addition, it maintains hygiene by not making much of a mess while extracting juice. It comes with juice container and seed collector. The body of this juicer is made of high quality material and is easy to operate and clean.
Techinical Specifications :350 Watts,230 Volts, 50 Hz,
Softel Machines Limited, a 20 year old company specialises in innovative kitchen appliances. Some of their highly successful products include Soda Fountain, Ice Cream Maker, Oil Free Snack Maker, Gola Maker, Atta Kneader. Softel products have a tremendous recall value having been bestsellers on TV for many years and popular names such as Sanjeev Kapoor have been associated with the brand in the past.
Apply code after login PN3CW7EX9B
Rs 500 off on orders above Rs 1200