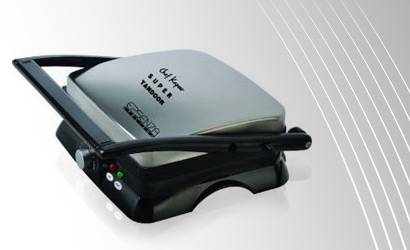 Chef Kapoor Electric Tandoor SKT- FS
Healthy and Tasty Tandoori Dishes with this amazing invention from Chef Sanjeev Kapoor
Oil Nikale Drop by Drop – leaving your food healthy and fat-free.
Indian food uses high amount of oil causing cholesterol, obesity and heart problems.
With Super Tandoor, you reduce oil consumption by 70%, without compromising on Taste.
Super Tandoor extracts oil drop by drop from the food you cook.
Dishes cooked in it retain only the required amount of oil, and the extra oil gets dripped off.
Result is a healthy family without compromise on taste.
Product Features:
1. Floating Hinge -
It allows even cooking for thick foods like club sandwich, paneer tikka, fish tikka, chicken tikka – up to 2 inches thick.
2. Max 10 – Step Thermostat -
Allows for precision cooking with the flexibility to adjust the temperature from low to very high heat.
3. Adjustable Slope -
The special adjustable slope creates a slight slope giving you to decide the amount of oil to use and how much you want to retain in your cooking.
4. Oil Collection Grooves -
The oil collection grooves allows us to collect the excess oils that drips off the slope.
It prevents wastage of extra oil while cooking – after all an Indian home maker is Cost-conscious.
5. Non-stick Coating on Both Sides -
Super Tandoor comes with non-stick coating on both the sides, allowing you to cook on both the sides.
6. Reheating -
Reheating the food items like Batata Vada, Samosa, Patties, Pizza, Parantha, Chapati, Pakora, Idli, Sabudana Wada and Uttapam and Dosa.
Technical points:
Dimension: 33 x 28 x 13 cms (Length x Width x Height)
Voltage: 220-240V 50Hz 1600 W
Add-Ons
1. 2 oil cups
2. Spatula
3. Manual book
Warranty : 1 Year.