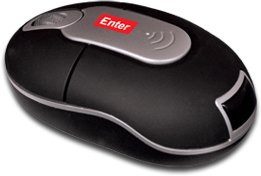 Smart Wireless Receiver Storage
The USB Wireless optical Mouse automatically powers OFF when the wireless receiver is stored in the Smart receiver storage compartment, ensuring that you don't leave it behind.
Manual Power Down
By pushing the left mouse button, right mouse button and scroll wheel simultaneously, you can turn your mouse power OFF/ON, saving battery between usages.
Wireless Receiver Eject Button
With one touch of the release button, you can eject the wireless receiver stored inside the mouse for simple connectivity.
Battery Cover Release Button
Changing batteries has never been so easy. A simple touch of a button releases the battery cover, making it easy to change batteries.
Other features
RF601 is equipped with 800 dpi resolution optical technology, providing more moving accuracy.
Accessories
2 AAA recommended Duracell batteries and a portable bag are included in the clamshell retail packing.
MRP: Rs. 450
Rs246 [ 279-33 (12% off) ]
CODE : ICICIFEST12